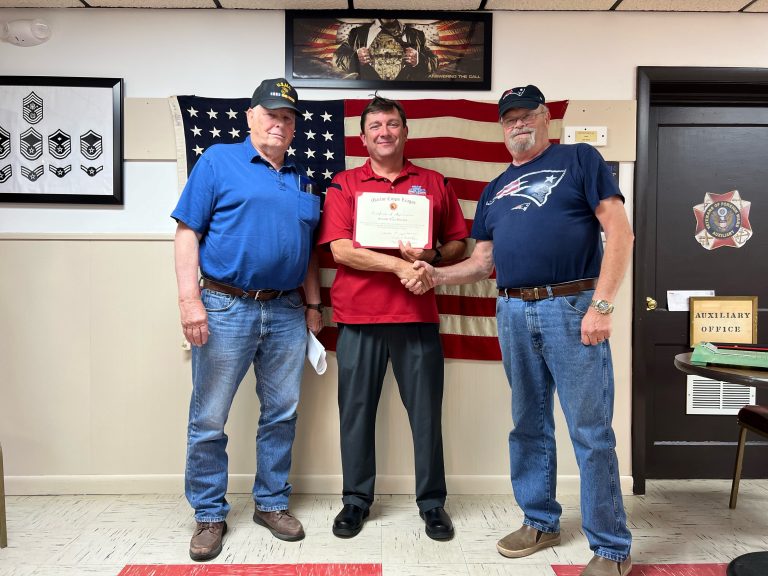 CARIBOU — On August 14, Senate President Troy Jackson, D-Allagash, was recognized by the Meo Bosse Detachment 1414 of the Marine Corps League with a certificate of appreciation for his role in preventing the closure of the Maine Veterans' Homes in Caribou and Machias. Maine Commandant Vaughn Hardacker of Stockholm presented President Jackson with the certificate alongside retired U.S. Marine Sgt. Allen Murphy of Portage at the Lister-Knowlton VFW Post 9389 in Caribou.
"To be recognized by the Marine Corps League for my commitment to County veterans was truly humbling. Our veterans are the real heroes among us. They show up time and time again for our state and our country, never shying away when the going gets tough or their backs are against the wall. It is only right that we, as elected officials, do the same," said President Jackson. "Fighting to ensure our veterans get what they deserve shouldn't even be necessary, let alone noteworthy. But I'm not stopping anytime soon."
This year, President Jackson sponsored a law to prevent the closure of the Maine Veterans' Homes in Caribou and Machias. The new law clarifies the intent of the Legislature in the creation of the Maine Veterans' Homes; lays out a public and transparent closure process that requires legislative approval for the closure or any Maine Veterans' Home location; and puts back into statute the six municipalities where Maine Veterans' Homes must be located. The measure also created a stakeholder group to develop a long-term plan, which held its first meeting last week.
The Marine Corps League is an organization that seeks to promote interest and preserve the tradition of the U.S. Marine Corps. The organization has 10 divisions, 48 departments and more than a thousand detachments across the country.
###