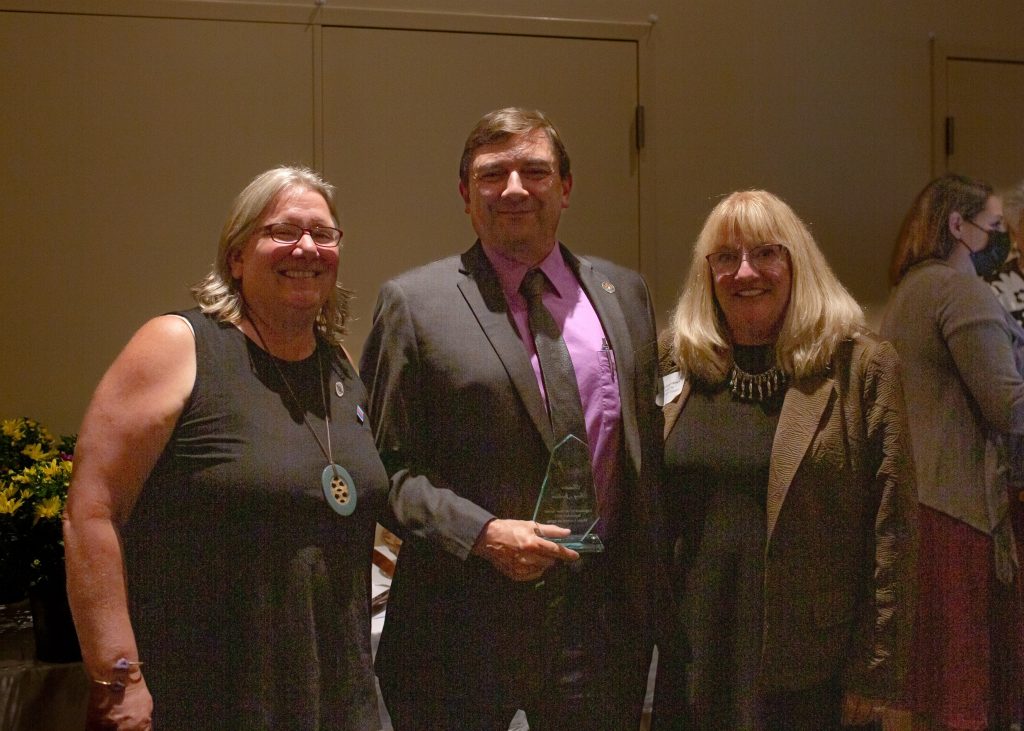 AUGUSTA – Senate President Troy Jackson, D-Allagash, was presented with the Maine Council on Aging's 2022 Legislator of the Year Award at the group's annual Wisdom Summit on Tuesday. The award recognizes his longstanding commitment to improving the health, safety, and economic security of older Mainers.
"Making sure older Mainers can afford to remain in their homes, participate in our communities and get the care they need close to home is the way we honor the generation that came before us and their continued contributions to our state, " said President Jackson. "I've always been proud to champion older Mainers in the Legislature because I think it is both the right thing to do and the smart thing to do. So, to be named the Maine Council on Aging's Legislator of the Year is a real honor."
This year, President Jackson successfully led the charge to prevent the Maine Veterans' Homes in Caribou and Machias from closing while continuing to invest in nursing homes, residential care facilities and other long-term care providers. At the same time, he voted to boost in-home and community support services for older Mainers in need of daily assistance and supported funding for Meals on Wheels. He also helped secure tax breaks for retired Mainers – voting to increase the annual income tax pension deduction by $15,000. 
"Senate President Troy Jackson has consistently demonstrated an unflinching resolve in pursuit of access to necessary supports and services for older Mainers. He is well known for his humanitarian values, earnest engagement across party lines, and dogged determination to champion those who need a voice," said Betsy Sawyer-Manter, CEO of SeniorsPlus and founding member of the Maine Council on Aging. "We recognize Senator Jackson for his collaborative and sustained leadership role in addressing Maine's severe and persistent direct care workforce shortage…Because of these sustained efforts and so many other initiatives he championed on behalf of older Mainers, including affordable housing and Meals on Wheels, the MCOA recognizes Senate President Troy Jackson as the 2022 Legislator of the Year."
The Legislator of the Year Award is awarded to a state lawmaker who has been a consistent leader on legislative initiatives that improve the health, safety, and economic security of older Mainers. This includes efforts to increase and improve access to quality aging services.
Since returning to the Senate in 2017, President Jackson has proven to be a fierce advocate for older Mainers. In 2021, President Jackson focused his efforts on addressing long-term care workforce issues, property tax relief and the high cost of prescription medication. Lawmakers expanded the Homestead Exemption Program, increased the Property Tax Fairness Credit benefit for seniors and revived the Property Tax Deferral Program. The Legislature also put federal funds to work by launching a campaign to promote direct care work and attract people to the profession, and supporting training and stackable credentials for health care workers. Both of these measures were recommendations from the Legislatures' bipartisan Long Term Care Work Force Commission. President Jackson also sponsored legislation to rein in the high cost of prescription drugs and improve access to affordable health care.
The Maine Council on Aging is a broad, multi-disciplinary network of more than 130 organizations, businesses, municipalities, and older Mainers working to ensure older residents can all live healthy, engaged, and secure lives in our homes and community settings.
###