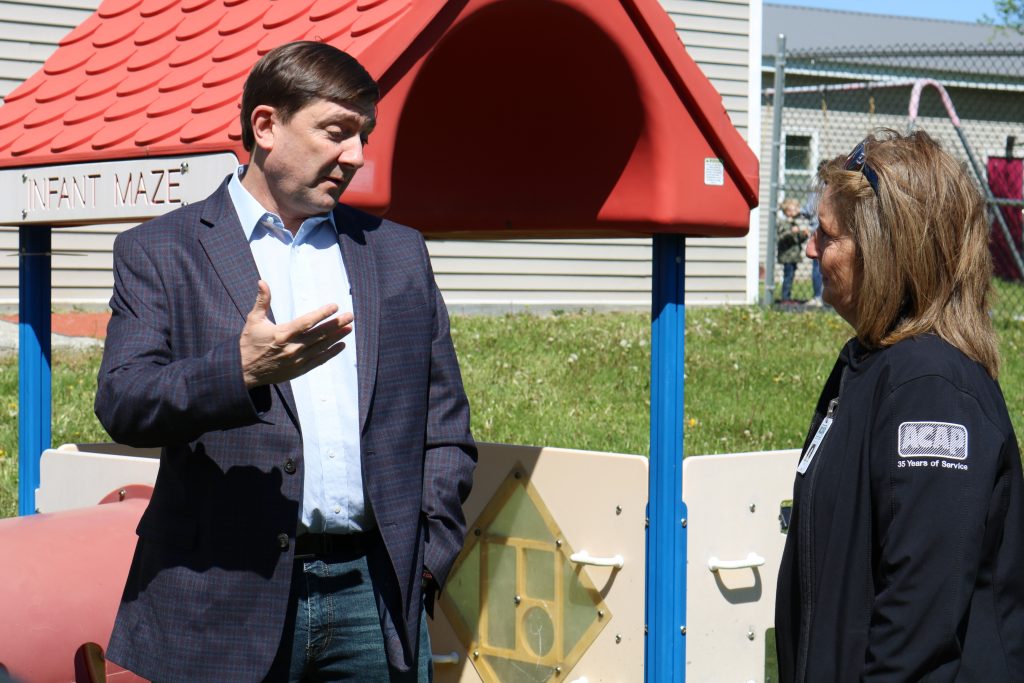 In May, President Jackson toured the Aroostook County Action Program (ACAP) – Early Care & Education center in Fort Kent to talk about the challenges Maine parents and child care providers are facing, and what that means for Maine's economy. 
AUGUSTA – Senate President Troy Jackson, D-Allagash, was honored with the Maine Association for the Education of Young Children's Champion Award for his work to expand access to quality, affordable child care, increase access to school meals and support child care providers. MaineAEYC presented President Jackson with the award at a virtual meeting of the Public Policy Committee on Tuesday.
"I'm enormously proud of what we were able to accomplish for Maine children, families and child care providers this year. Today, we are one step closer towards a child care system that actually works for everyone involved, and it would not be possible without the organizations like MaineAEYC," said President Jackson. "But make no mistake, our work is not done. Over the next year, I will continue pushing to ensure the First 4 ME pilot program is fully implemented to begin closing Maine's child care deserts. At the same time, I look forward to working with my colleagues to ensure that child care providers get the support and compensation they deserve for the invaluable service they provide our families, small businesses and economy."
This year, President Jackson sponsored legislation to expand access to quality, affordable child care by investing in child care providers and working with community stakeholders to open slots in existing child care programs through the First 4 ME program administered by the Department of Health and Human Services. The new law seeks to replicate a program in Somerset county, modeled after the successful Early Head Start-Child Care Partnership. 
Under this new law, Maine is expected to create five additional programs across the state, sponsored by coalitions of stakeholders, providers and other community members within the communities that the projects serve.
"The Maine Association for the Education of Young Children (MaineAEYC) is proud to honor the instrumental leadership of Senate President Jackson in his support of Maine's young children. Senator Jackson has worked to expand access to free school meals by sponsoring and passing LD 1679: An Act to Address Student Hunger through Expanding Access to Free School Meals. He also sponsored and passed LD 1712: An Act To Support Children's Healthy Development and School Success which expands child care access and resources for families and child care programs," said Heather Marden, Policy Director, MaineAEYC. "Senator Jackson is committed to Maine's future by supporting the health and development of all children and we are pleased to present him with MaineAEYC's 2021 Children's Champion Award."
This past session, President Jackson also spearheaded efforts to make school meals free to all students in Maine and supported measures to boost Maine's child care workforce. In addition, President Jackson has called for the state and federal government to take action to support and invest in early child care professionals. 
MaineAEYC is a nonprofit organization that promotes high-quality early learning for all children, birth through age eight, by connecting practice, policy and research. The organization plans and presents workshops, webinars and annual conferences for early childhood professionals in Maine and connects teachers and administrators to local, state and national resources.
###