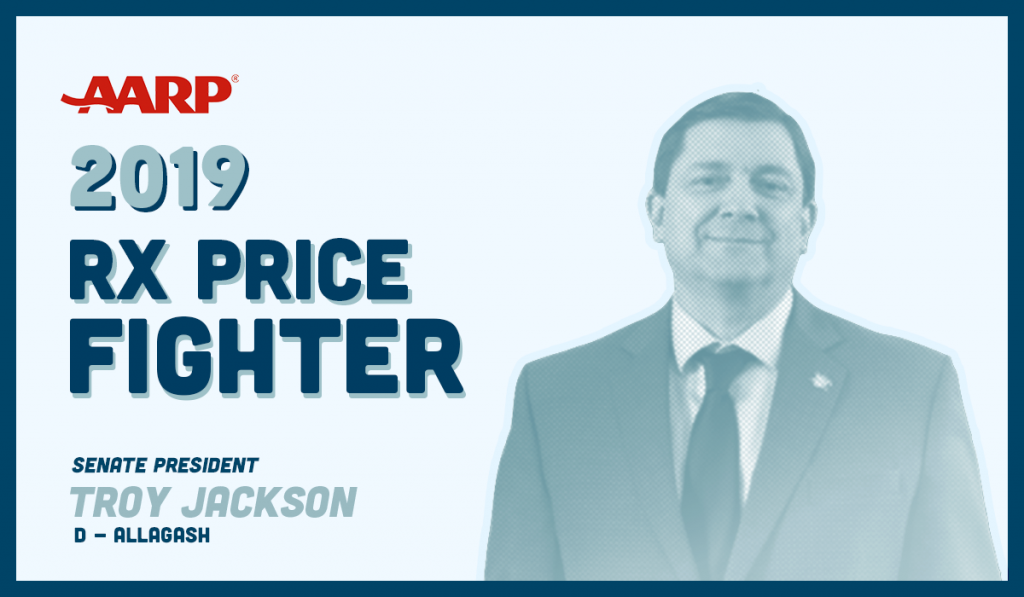 AUGUSTA — AARP has named Senate President Troy Jackson, D-Allagash, a 2019 Rx Price Fighter for his work to lower the cost of prescription drugs for Maine consumers. This year Pres. Jackson introduced and championed a suite of bold prescription drug reform proposals in the Maine Legislature aimed at lowering costs, improving availability, increasing transparency, and holding both drug companies and pharmacy benefit managers accountable.
"For too many Mainers, the high cost of prescription drugs threatens their ability to live, work and go about their daily lives. In recent years, the situation has only worsened, with more people having to put themselves in harm's way just to make ends meet," said Pres. Jackson. "In Maine, we were fed up. Our constituents couldn't wait any longer, and quite frankly, neither could we. My colleagues and I introduced a bold prescription drug reform package that tackles corruption at every angle. We took on 'Big Pharma,' and we won. It wouldn't have been possible without our partners at AARP Maine."
Pres. Jackson sponsored two of the four new laws in the prescription drug reform package. The first law – LD 1499, "An Act To Establish the Maine Prescription Drug Affordability Board" – establishes a state board to oversee the cost of prescription drugs in Maine. The second law – LD 1272, "An Act To Increase Access to Low-cost Prescription Drugs" – allows the wholesale importation of safe, cheaper drugs from Canada. The Maine Department of Health and Human Services has begun the rulemaking process on wholesale importation and will submit a plan to the federal government in March.
The suite of laws also included measures from Assistant Senate Majority Leader Eloise Vitelli, D-Arrowsic, to increase drug price transparency, and Sen. Heather Sanborn, D-Portland, to hold pharmacy benefit managers, also known as "the middlemen" accountable. Both Sen. Vitelli and Sen. Sanborn were also named 2019 AARP Rx Price Fighters. All four prescription bills received unanimous, bipartisan support in the Maine Senate and were signed into law by Gov. Janet Mills.
In the U.S., one in four Americans struggles to pay for their prescription medication while one in ten Americans do not take their medicine as prescribed to stay afloat. According to the AARP Public Policy Institute, last year, retail prices for 267 brand name prescription drugs widely used by older adults increased by an average of 5.8 percent – more than double the rate of general inflation.
The Maine Legislature will reconvene in January for the second regular session of the 129th Legislature, where they will continue to work to lower the cost of prescription drugs and make health care more affordable for Maine people.
###