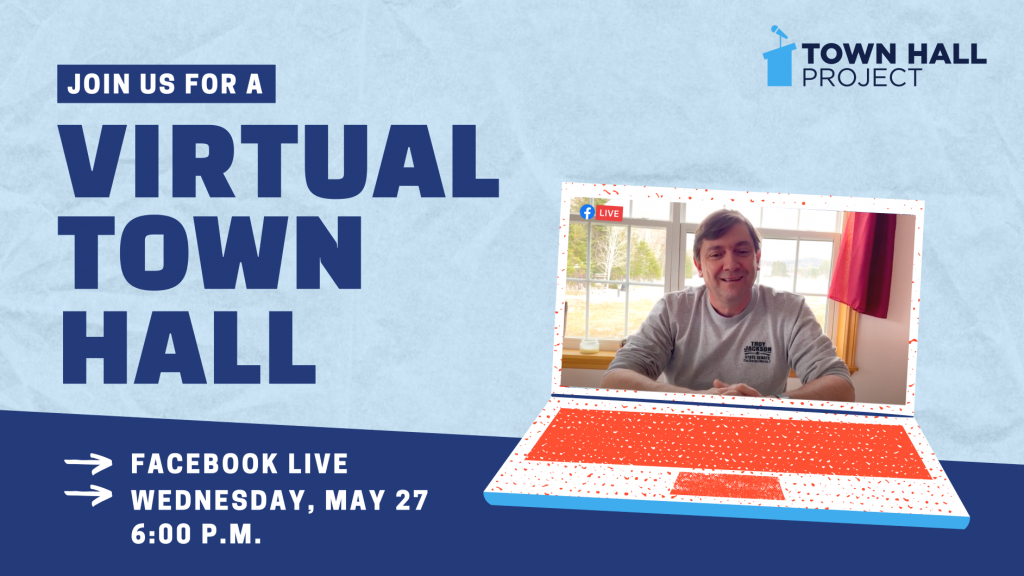 AUGUSTA — Senate President Troy Jackson, D-Allagash, plans to hold a virtual town hall meeting on Wednesday, May 27 to provide updates on the COVID-19 pandemic, talk about Maine's response to the public health and economic crisis, and answer questions from constituents. 
"It's more important now than ever for folks to be able to contact their elected officials, ask questions and get answers. We may not be able to hold in-person meetings or other events, but it's incumbent upon us as lawmakers to find new and creative ways to connect with our constituents. With this virtual town hall, that is exactly what I'm trying to do," said President Jackson. "The whole reason I ran for office in the first place was because politicians in Augusta and D.C. weren't listening to what working people like me had to say. As a state senator, hearing from constituents, answering questions and getting feedback is a priority for me. I'm grateful to Town Hall Project for helping me put this together and get folks answers."
Pres. Jackson has partnered with the Town Hall Project to put on this event and moderate this event. The virtual town hall will begin at 6:00 p.m. and can be streamed live via Facebook: facebook.com/TroyJacksonmaine or facebook.com/TownHallProject. Individuals interested in participating can submit their information to can submit questions to the Town Hall Project in advance here.
Town Hall Project will select a range of participants representative of the district. If there is time, the moderator will take questions from the comments section of the Facebook Live video. Viewers do not need a Facebook account to watch the town hall.
"Town Hall Project is thrilled to moderate this virtual town hall with Senate President Jackson and his fellow Mainers," said Nathan Williams, Executive Director of Town Hall Project. "We're committed to facilitating a virtual town hall that replicates as closely as possible the face-to-face conversations that are the hallmarks of a traditional town hall meeting. Pres. Jackson is a leader in accessibility, and Mainers are famous for speaking their minds — so we know we're in for a great, substantive discussion." 
Town Hall Project is a nonprofit organization founded on the belief that our democracy is stronger when Americans and their elected representatives meet face-to-face. The organization tracks and encourages opportunities for constituents to meet with elected officials at all levels of government all across the country. Last year, Town Hall Project named Pres. Jackson a 2019 Stand-Out State Legislator for prioritizing accessibility to constituents in the Maine Legislature. Pres. Jackson was one of only 11 state lawmakers across the country to earn this recognition.
In response to the COVID-19 crisis, the Maine Legislature passed a strong, bipartisan supplemental budget and passed legislation that expanded unemployment benefits for affected workers, ensures
kids can still access school meals and protects Mainers from getting their utilities shut off. Since then, President Jackson and his colleagues have continued to push the federal government to support Maine's small businesses, provide critical funding for states and rural hospitals and ensure Maine people can access quality, affordable health care. He has also urged the governor to allow for more input from lawmakers, business leaders and public health experts on a plan to reopen Maine's economy.
WHAT: Virtual Town Hall Meeting
WHO: Senate President Troy Jackson, D-Allagash; Nathan Williams, Executive Director of Town Hall Project
WHEN: 6:00 p.m., Wednesday, May 27
HOW: To submit questions to Town Hall Project ahead of the virtual meeting, click here.
###